Used Car of the Week: 2018 Toyota Camry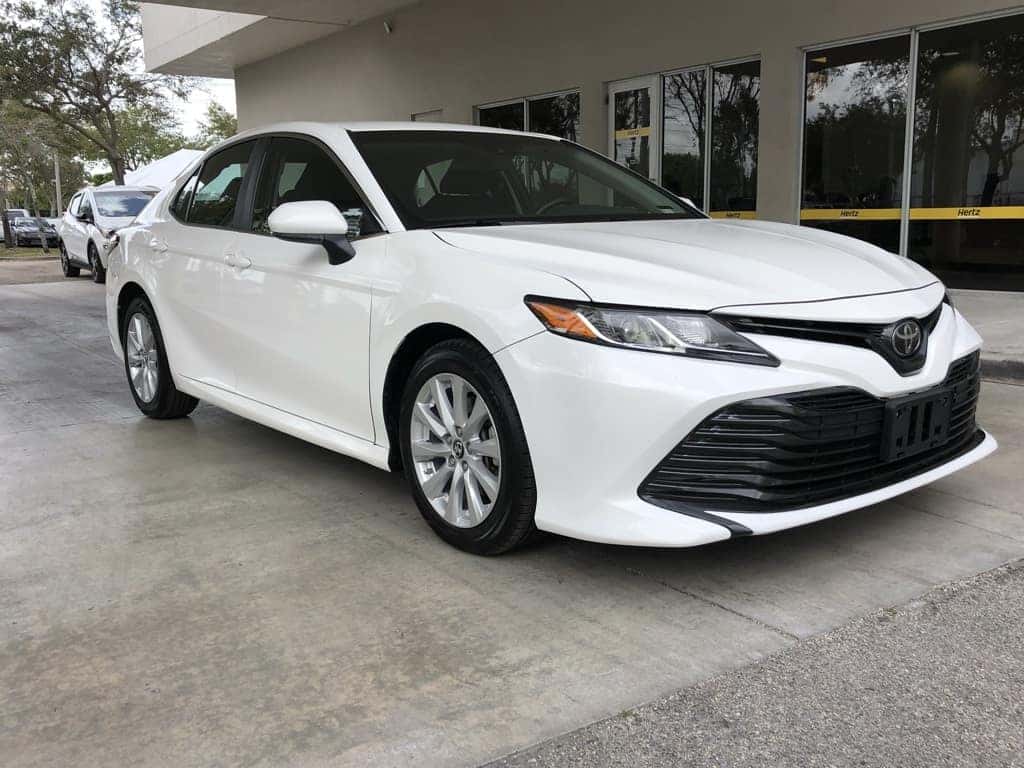 While many owners look for solid pre-owned vehicles, few vehicles are as widely embraced by customers like a Toyota. While many sedans are okay fits, we can recommend one vehicle that consumers truly adore admire; the 2018 Toyota Camry. While there are many names in the automotive business, few come to mind with a more trusted reputation than the Toyota brand and for many good reasons. Known for unmatched dependability, generous durability and overall universal accommodations, few options are more coveted than the Toyota Camry. The 2018 Camry is the 36th year in existence and buyers gain not only a quality mid-size car, but a modern and efficient ride. 
More on the 2018 Toyota Camry
The 2018 Toyota Camry carries two powertrain options. The choice of a 4-cylinder or 6-cylinder engine option can yield as much as 301 horsepower. The base trim Camry offers as much as 29 city and 41 highway mpg. Depending on the engine selection, a driver has options for greater horsepower. For any owner looking for a car that enhances its value year after year with maintaining excellence, the Camry provides that while keeping its affordability intact. 
Few choices today can supply both as the Camry does. Easily the highest-ranked and most affordable midsize car in 2018 and #1 used mid-size car $15,000 and up by U.S. News, this is the most sought out option for all our customers to purchase. The 2018 Camry is built with five trims including the L, LE, SE, XLE, and XSE. The L trim offers the best mpg for drivers. While the base trim includes nice features, the improvements to the 2018 Camry were truly noticeable with the SE trim. The SE trim supplies performance features like sport suspension, tilting-and-telescoping steering with paddle shifters. For drivers that opt for the high-end XSE trim, owners get the most strength with its powerful 301 horsepower V6 engine. 
The 2018 Camry Is Both Modern and Safe
Owners of a 2018 Camry will get a sleek ride that also adds space for drivers and passengers alike to enjoy. The actual range (97.5 cubic feet) is what helps drivers that are constantly on the feel secure. The wide interior with a comfortable ride and seating for five to enjoy any ride. Toyota has stepped up its technology with the 2018 Toyota Camry. Toyota includes quality materials inside and out with modern tech touches like a push-to-start button, wireless phone charging, an easy-to-use infotainment system, heated front seat options, and Bluetooth connectivity. The enhanced multimedia system makes driving with the 2018 Camry easier than any other sedan on the road. 
The 2018 Toyota Camry earned a 5-star rating from the National Highway Traffic Safety Administration, as well as a 5-star rating for both side crash and side barrier test results. Keep in mind, the 2018 Toyota Camry was the lone vehicle in its class to gain the perfect predicted reliability ratings of five out of five from J.D. Power. This is the kind of innovation that has continued to make the Toyota brands so successful in the United States for car sales. Looking to buy one?
Ready For A Toyota? 
The 2018 Camry was built for modern roads with modern drivers. Included with the Camry are a host of newly improved features and available options that include a rearview camera, Blind Spot Monitor with Cross-Traffic alerts, a navigation system, and Adaptive Cruise Control. The 2018 Camry adds upon its solid suspension and gives drivers improved handling to make driving one even better for the driver. Among the many choices at Driver's Auto Mart, this is a wonderful selection for many good reasons. Thinking about driving a used vehicle with our help? 
Where To Drive the Most Beloved Brands
If you've been searching for a reliable pre-owned vehicle that provides a remarkable driving experience and won't break the bank, you should definitely shop with Driver's Auto Mart. Our no-hassle shopping experience will ensure you leave home happy and fulfilled, hopefully with a vehicle you'll love.
Located in Davie, Florida our customers always come first as we invite you to reach out to us at (954) 945-7618. We look forward to helping you finance, buy or sell your vehicle with us at Driver's Auto Mart!