Used Car of the Week: Infiniti QX80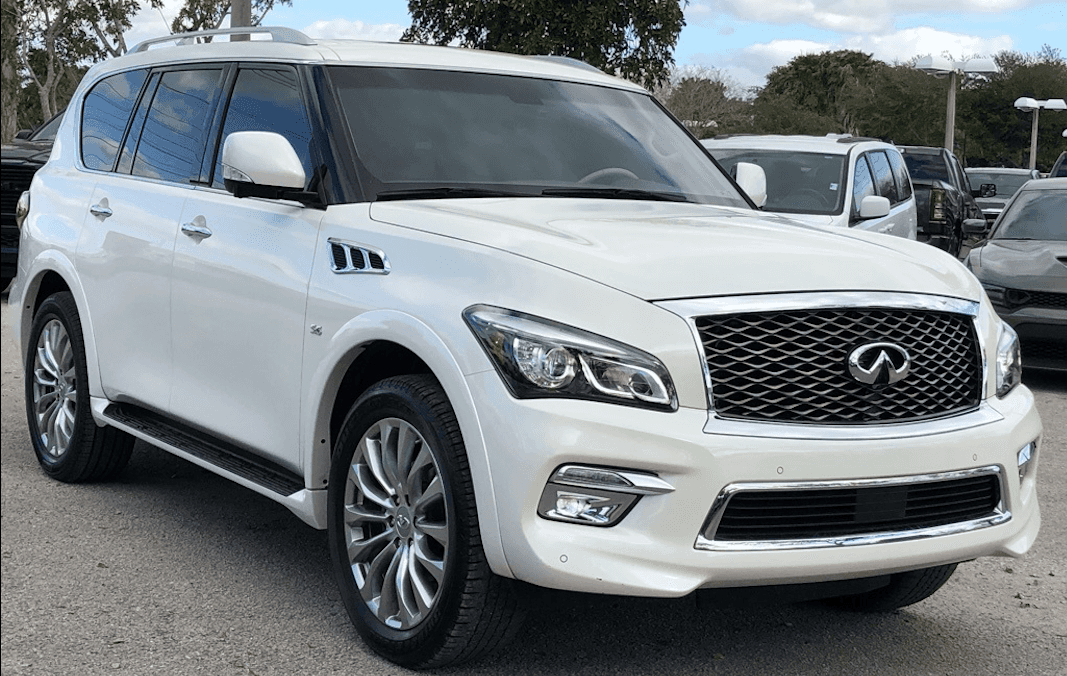 Among our collection, few vehicles have as much to offer as the Infiniti. Infiniti stands for luxury, prestige, and class. Among the many accolades we could mention about the vehicles in our inventory, we know the Infiniti QX80 stands out as a prized premium vehicle. We offer our customers to purchase their next vehicle at Driver's Auto Mart, and don't expect to have to pay a high price for everything the Infiniti brand provides. Inside, the cabin remains quiet while driving and the ride is as quiet as any luxury SUV on the market. It's a stellar option that has earned our Used Vehicle of the Week. Let's break down why we've gone with the Infiniti QX80 and how our customers can get one today.
Why Opt For the Infiniti QX80?
Infiniti supplies buyers with a broad range of SUVs included in its QX-series. They offer compact, mid-size and the QX80 represents the full-size SUV models. Nissan's luxury brand, Infiniti, has produced the QX80 since 2004, renaming the vehicle back in 2014. A full-size luxury SUV that provides a wide array of amenities including a facelift and refresh that took place with the 2018 model year. We have the 2019 Infiniti QX80 ready to go, complete with its premium cabin features and impressive 5.6-Liter V8 engine that gets 400 horsepower. The powertrain is paired to a seven-speed automatic transmission and can handle what a driver asks in regards to strength. Drivers can tow as much as 8,500 pounds with the Infiniti QX80. Families will enjoy riding in this luxury SUV as the second-row seating is spacious and wide. Leg-room and headroom are also impressive, even in the third-row. Up to eight passengers can fit into the beautiful looking Infiniti QX80.
Drivers Auto Mart only selects vehicles that offer our customers many perks. Come find out why the Infiniti QX80 is the right choice for families and drivers looking for a great deal and a vehicle that provides strength, quality and luxury all the way through. Many safety features come with the QX80, including adaptive cruise control, a blind spot warning system and lane departure warning and prevention. Want to know more?
Trust Our Collection At Driver's Auto Mart
Many traditional dealerships may have a few used vehicles, however, they are not up to the same standard for the ones we carry in our large inventory. We stand out with vehicles that represent a greater variety of drivers and practicality for our buyers. Choose from a large number of luxury brands, including Infiniti. Risks are avoided with us as we can assure our buyers we verify each vehicle we sell and only choose more than capable vehicles. Detailed vehicle history reports are made using the vehicle identification number (VIN) available from companies such as Carfax, AutoCheck and VINCheckPro among others.
Where To Drive the Most Beloved Brands
If you've been looking for a smart deal on a pre-owned vehicle that provides a remarkable driving experience and won't break the bank, you should definitely go with Driver's Auto Mart. Our no-hassle shopping experience will ensure you leave home happy and fulfilled, hopefully with a vehicle you'll love.
We are proudly located in Davie, Florida. To us, customers always come first as we invite you to reach out to us at (954) 945-7618. We look forward to helping you finance, buy or sell your vehicle with us at Driver's Auto Mart!