Used Vehicle of the Week: Kia Sportage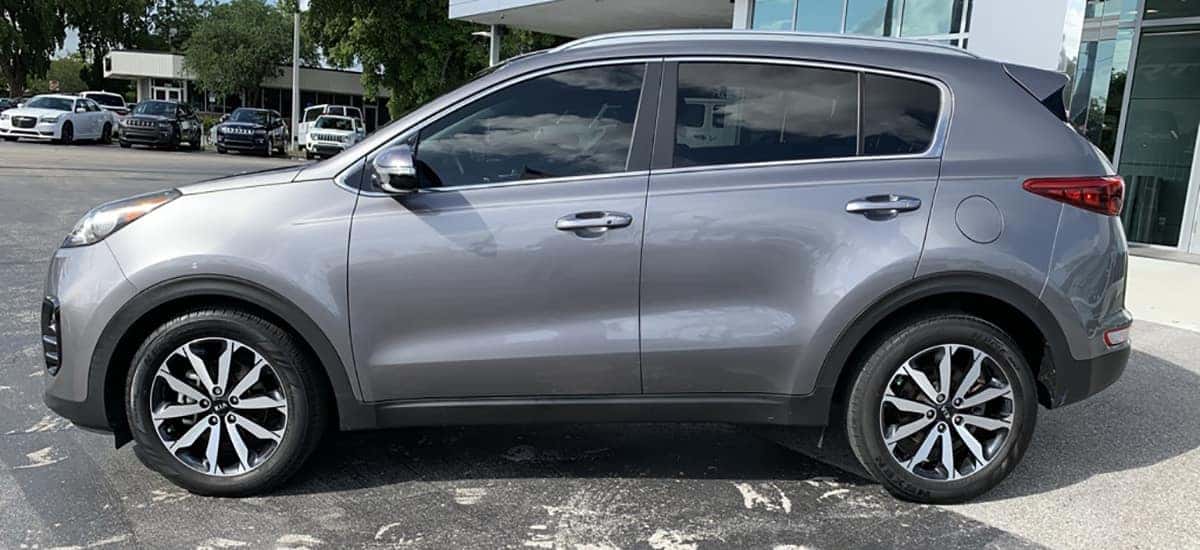 Driver's Auto Mart is ready to help our customers find the right vehicle for their needs. Among our large inventory choices, we offer the Kia Sportage. The Kia Sportage has been revamped in the past few years as we will go over the differences between the model years we currently carry. Overall, the Kia Sportage is a modern-looking, small SUV that has 5 seats with more than capable powertrain options. The Sportage has both front or all-wheel-drive options and a plethora of safety options for every model year and trim. Let's take a close look at the Sportage.
What Does the 2015 Kia Sportage Offer?
The 2015 Kia Sportage has a 182 horsepower, 2.4-Liter four-cylinder engine, and a stronger, 260 horsepower, turbocharged 2.0-Liter four-cylinder engine. The 2015 Kia Sportage provides customers with decent gas mileage with its 21 city and 28 highway mpg. Both engines are paired to a six-speed automatic transmission, which helps provide solid get-up speed. JD Power notes the 2015 Kia Sportage as having solid acceleration, plenty of truck and hatch space with modern technology that makes everyday use easier. Owners will enjoy the voice recognition and Bluetooth capabilities.
2017 Kia Sportage Overview
The 2017 Kia Sportage was a complete redesign in its latest, current-generation look. Kia added a nice new look and improved the ride smoothness, a more quiet interior during highway speeds and upgraded the dashboard layout. The backseats were upgraded and made to be more comfortable while staying spacious. The ride quality has also improved. The Sportage has solid handling and is a solid choice to enjoy traveling. The SX Turbo trim was added to provide an engine option that gets 59 more horsepower. The cabin equips loads of standard equipment like a USB port and a user-friendly touchscreen. The available 8-inch screen has a responsive touch and Apple CarPlay and Android Auto make life easier. The backseats can fold down to give owners 60.1 cubic feet of space. 
2018 Kia Sportage Upgrades
Upgrades added to the 2018 Kia Sportage include an even more refined experience for drivers. Bigger wheels, a nicer drive, and every trim includes Apple CarPlay and Android Auto and advanced safety features. Kia added stain-resistant cloth upholstery for the base trim. The LX, EX, SX Turbo represent the various trim levels. Front-wheel-drive comes standard, but the all-wheel-drive option is a solid choice. The base trim LX includes 17-inch wheels, while the EX adds 18-inch wheels, keyless start and entry, blind-spot monitoring, leather upholstery, and the SX trim adds 19-inch wheels with a sport-tuned suspension, LED headlights and 2,000 pounds of towing capacity.  The powertrain options include a 2.4-Liter engine that nets 181 horsepower and 175 lb-ft of torque. The 2.0-Liter engine jumps up the horsepower to 240 and 260 lb-ft of torque. 
Upgrade For A Better Experience at Driver's Auto Mart
Check out our inventory of the Kia Sportage, ready to go. Visit us today in Davie, Florida. Driver's Auto Mart offers remarkably low-priced pre-owned vehicles. You can feel confident knowing the quality has only become better as the pre-owned vehicles available at Driver's Auto Mart are second to none. Our selection includes over 200 vehicles with everything from sedans to large SUVs, crossovers to great pickup choices. 
Visit Driver's Auto Mart today for a test-drive. We look forward to assisting all our customers to drive away in a vehicle they'll love. If you have any worries about financing a vehicle, let us answer all your questions. Reach out to us today at (954) 400-4200. We'll be ready to make sure you drive home with a fantastic ride at Driver's Auto Mart!